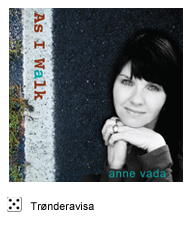 New album: release April 15. 2015
Available as CD, digital download and streaming now!
Norwegian composer and producer Frode Fjellheim is happy to present a new album with singer Anne Vada. The music possesses that unique Nordic sound and Anne Vada's voice makes it shine brilliantly.
You might have heard Frode's music before – like the choral piece "Vuelie" which opens the Disney movie "Frozen". This time around, Frode has produced an album with a fantastic Norwegian singer, where they explore a musical landscape that lies between pop, folk, world and sacred music.

Vocals: Anne Vada
Synth and vocals: Frode Fjellheim
Percussion: Snorre Bjerck
Trumpet and goat horn: Hildegunn Øiseth
Bass: Mattis Kleppen
Choir: Randi F. Lundemo and Elisabeth SilsethProduced by Frode Fjellheim
Mixet and mastered in Transjoik studio, Trondheim 2015
AS I WALK
 As I Walk is a pilgrimage and an entrance into reflections on our own values and life choices independent of religious belief and orientation.
The music is filled with contrasts – a place between pop and folk music in a sound where new technology unites with traditional expressions.
Together Frode Fjellheim (keyboards and joik), Snorre Bjerck (percussion), Hildegunn Øiseth (goat horn and trumpet) and Mattis Kleppen (base) creates a soundscape where Anne's beautiful voice and dissemination shines in new ways.
Anne Vada has released several CDs in different genres. Anne using her own voice when crossing musical borders characterizes these productions.
On her last recording "The Eternal Moment" Frode Fjellheim was invited into the project. Anne was impressed by his artistry and fabulous ability to convey music. New elements were brought into her musical landscape, including Frode's joik.
After several concert performances, they now have created As I walk.
The texts are the offspring of Anne's curiosity and interest of why people all around the world go on pilgrimages.
Frode is the producer of this recording. He has done most of the musical compositions and all the arrangements.
Welcome into As I Walk.