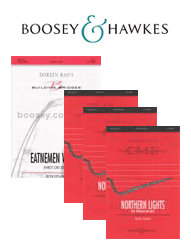 Boosey and Hawkes in New York have published a selection of choral music by Frode Fjellheim  in the series Choral Music Experience – presented by Doreen Rao.
The titles could be bought online at www.boosey.com.
All compositions are inspired by the Sámi tradition "yoik" (joik), but they require no special knowledge about Sámi language or Sámi musical tradition to be performed. Most are written for equal voices (SSA or SSAA), but some could be used in mixed choirs (see notes below).