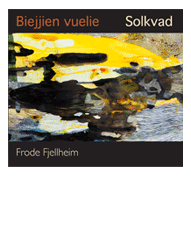 New border crossing world music from Frode Fjellheim.
Album release November 11th.
From the newspaper Avisa Hordaland after the premiere of "Biejjien Vuelie – Song of the Sun" in 2011:
«The mix of Latin, Old Norse and Sámi texts combined with Frode Fjellheim's genre- and border crossing world music were so neatly intervowen. So naturally executed you start to wonder why not all masses throughout all times were composed in this manner.»
«Biejjien Vuelie – Solkvad» succeeds the CD «Aejlies Gaaltije – The Sacred Source» (2004). This was a meeting between Sámi musical tradition and European church music. The CD received brilliant critical acclaim and was awarded «Spellemannsprisen» (the Norwegian Grammy Award).
The new CD still has music rooted in the Sámi tradition. When fused with elements of Old Norse poetry, for instance the Edda poem «Solkvad» (The Song of the Sun), the result is remarkably unique!


| | |
| --- | --- |
| | |
| Joining Fjellheim on the CD are Berit Opheim and Ulla Pirttijärvi (vocals), Hildegunn Øiseth (trumpet and goat horn), Andreas Aase (guitar bouzouki) and Hans Hulbækmo (drums). | |